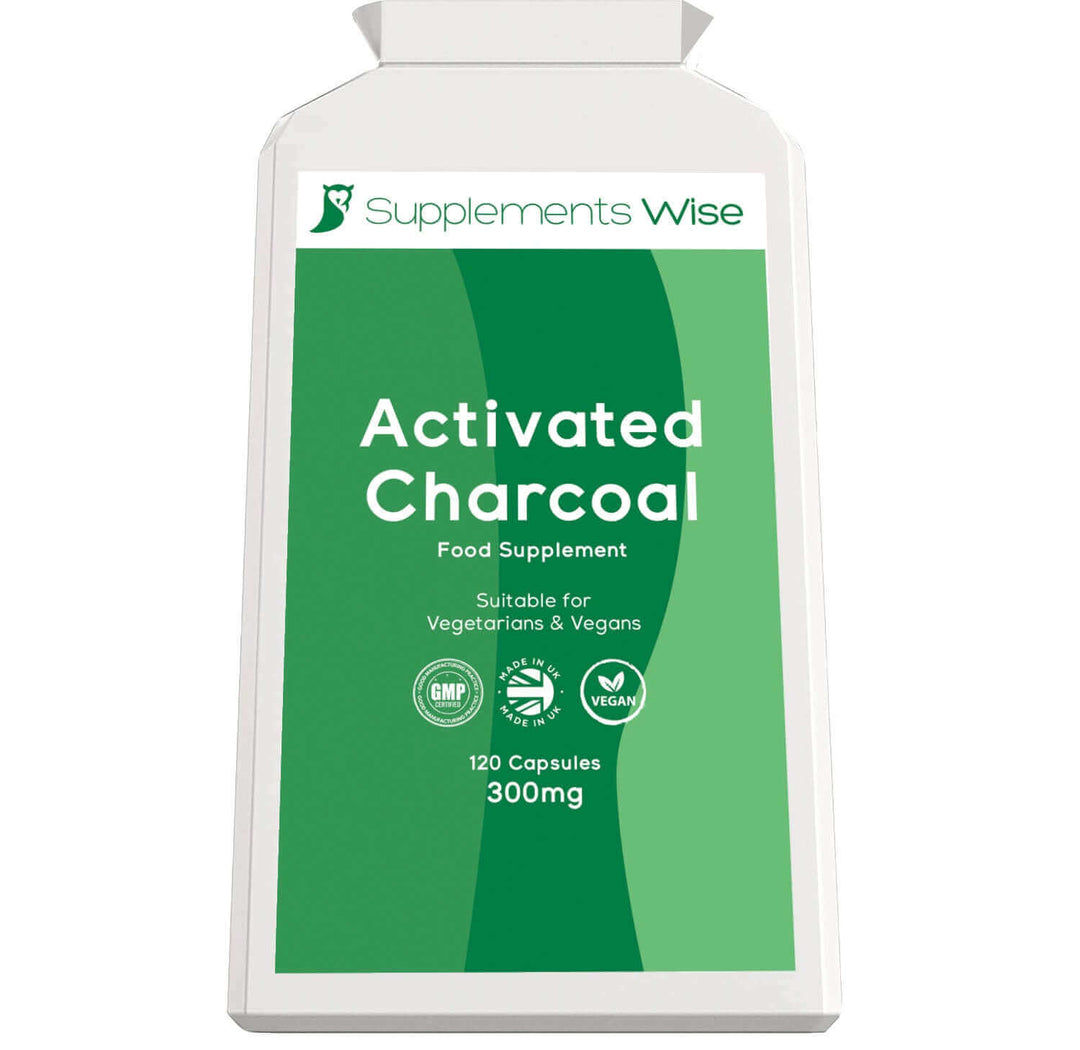 Activated Charcoal Capsules 120 x 300mg
Activated Charcoal Capsules 120 x 300mg
In stock, ready to ship

Inventory on the way
PRODUCT DETAILS
Take 2 - 8 capsules each day with water
Not intended for use by those under the age of 18
Do not exceed the stated dose
Not to be used if you have any kind of intestinal obstruction. Do not use if you have a condition that slows the passage of food through your intestine (reduced peristalsis).
Suitable for vegetarians  vegans
Letterbox friendly packaging
Manufactured in the UK to strict GMP standards
Activated Charcoal contributes to reducing excessive flatulence after eating. This specific effect is obtained with 1g (4 capsules) which should be taken at least 30 minutes before and 1g (4 capsules) shortly after the meal.
INGREDIENTS
Activated Charcoal 300mg, Capsule Shell: Hydroxypropyl Methylcellulose.
If you are on medication, under medical supervision, pregnant or nursing always consult your GP before taking health supplements. You should not take supplements as a substitute for a varied balanced diet. Side-effects from this supplement are rare but please discontinue use and contact your GP immediately in the event of an adverse reaction. Store in a cool, dry place out of reach of children.
DESCRIPTION
Supplements Wise Activated Charcoal Capsules are a high strength supplement with a potent detoxifying power.
What are the benefits?
Charcoal supplements can help to reverse some of the damage caused by overeating or alcohol. They work to trap the toxins and chemicals before they are absorbed into the bloodstream and the gut. Our Activated charcoal capsules can support your digestive system, flushing out the toxins that cause embarrassing flatulence, bloating and annoying indigestion. It may also relieve the unpleasant symptoms associated with a hangover! Teeth whitening is one of the more famous uses of activated charcoal in recent times. Simply use the charcoal powder itself mixed in with your toothpaste. Our activated charcoal capsules also have benefits for skin health, hair and energy.
What is activated charcoal made from?
Each capsule contains 300mg of charcoal, with no filler ingredients whatsoever. As a result, you can get the full benefits of this super, natural supplement. We've used steam-activated coconut shells as our base for the charcoal.  This is one of the most sustainable forms; perfect for purifying and detoxing your system. This product is suitable for both vegans and vegetarians.