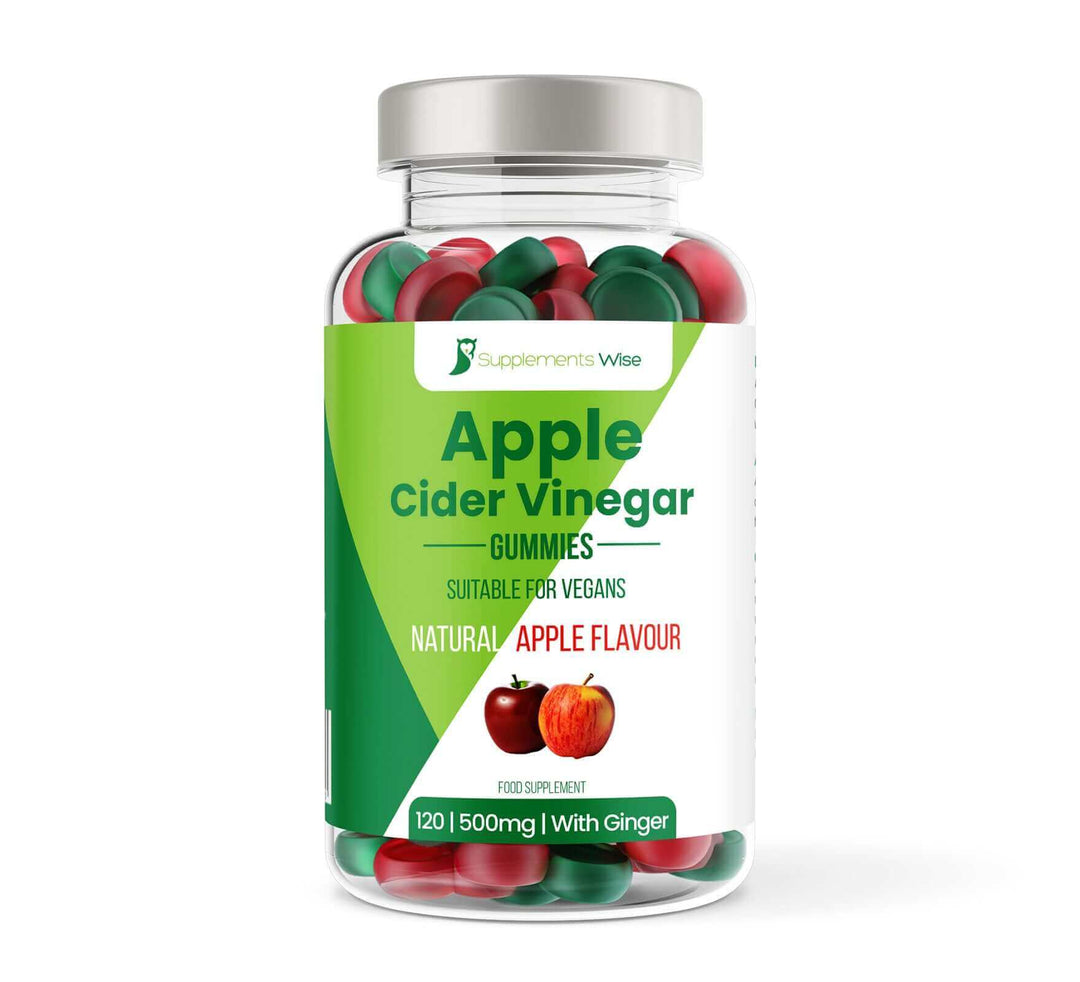 Apple Cider Vinegar Gummies With Ginger 120 Natural Apple Flavour
Apple Cider Vinegar Gummies With Ginger 120 Natural Apple Flavour
Regular price
£1595
£15.95
In stock, ready to ship

Inventory on the way
 PRODUCT DETAILS
2 month supply. Take 2 each day 
Suitable for vegetarians and vegans

Natural apple flavour

Gummies should be chewed and not swallowed whole

Do not exceed stated dose

Store in a cool, dry & dark place, under 25 degrees, out of reach of children.

Manufactured in the UK to strict GMP standards

INGREDIENTS 
2 gummies typically provide:

Apple Cider Vinegar (with the Mother) 500mg
Ginger Extract 10mg

Glucose Syrup, Sugar, Water, Pre-mix (Ginger Extract, Mother Apple Cider Vinegar), Pectin, Citric Acid, Sodium Citrate, Anthocyanadins, Sodium Copper Chlorophyll, Coconut Oil, Carnauba Wax, Apple Flavour.
If you are on medication, under medical supervision, pregnant or nursing always consult your GP before taking health supplements. You should not take supplements as a substitute for a varied balanced diet. Side-effects from this supplement are rare but please discontinue use and contact your GP immediately in the event of an adverse reaction.
DESCRIPTION
Revitalise your wellness journey with our exceptional Apple Cider Vinegar Gummies, expertly crafted to enhance your daily routine.  We present a groundbreaking fusion of natural apple flavour and the incredible benefits of apple cider vinegar with the mother, perfectly complemented by the warmth of ginger with all the combined benefits.
Why Choose Our Apple Cider Vinegar Gummies? 
Premium Ingredients: Our acv gummies are meticulously crafted using only the finest natural ingredients, ensuring a pure and potent supplement. We pride ourselves on delivering a product that not only tastes delicious but also provides unparalleled nutritional support.
Delicious Natural Apple Flavor: Say goodbye to the harsh taste of traditional apple cider vinegar! Our yummy gummies boast a delightful natural apple flavour, making your daily dose a tasty and enjoyable experience.
Ginger Infusion: Experience the added boost of ginger extract, known for its antioxidant and anti-inflammatory properties. This dynamic duo of apple cider vinegar and ginger creates a synergy that goes beyond the ordinary, promoting overall well-being.
Optimal Dosage: Each serving of two gummies packs a powerful 500mg of apple cider vinegar with the mother. It's the perfect daily dose to help you unlock the full potential of these incredible ingredients.
Convenience & Consistency: Tired of measuring and mixing? Our convenient gummies make it easy to incorporate the benefits of apple cider vinegar and ginger into your daily routine. Plus, with a consistent dosage, you can effortlessly support your health goals.
Holistic Wellness: Embrace a holistic approach to your well-being with a supplement that supports digestion, metabolism, and overall vitality. Feel the difference from the inside out as you nourish your body with the best nature has to offer.