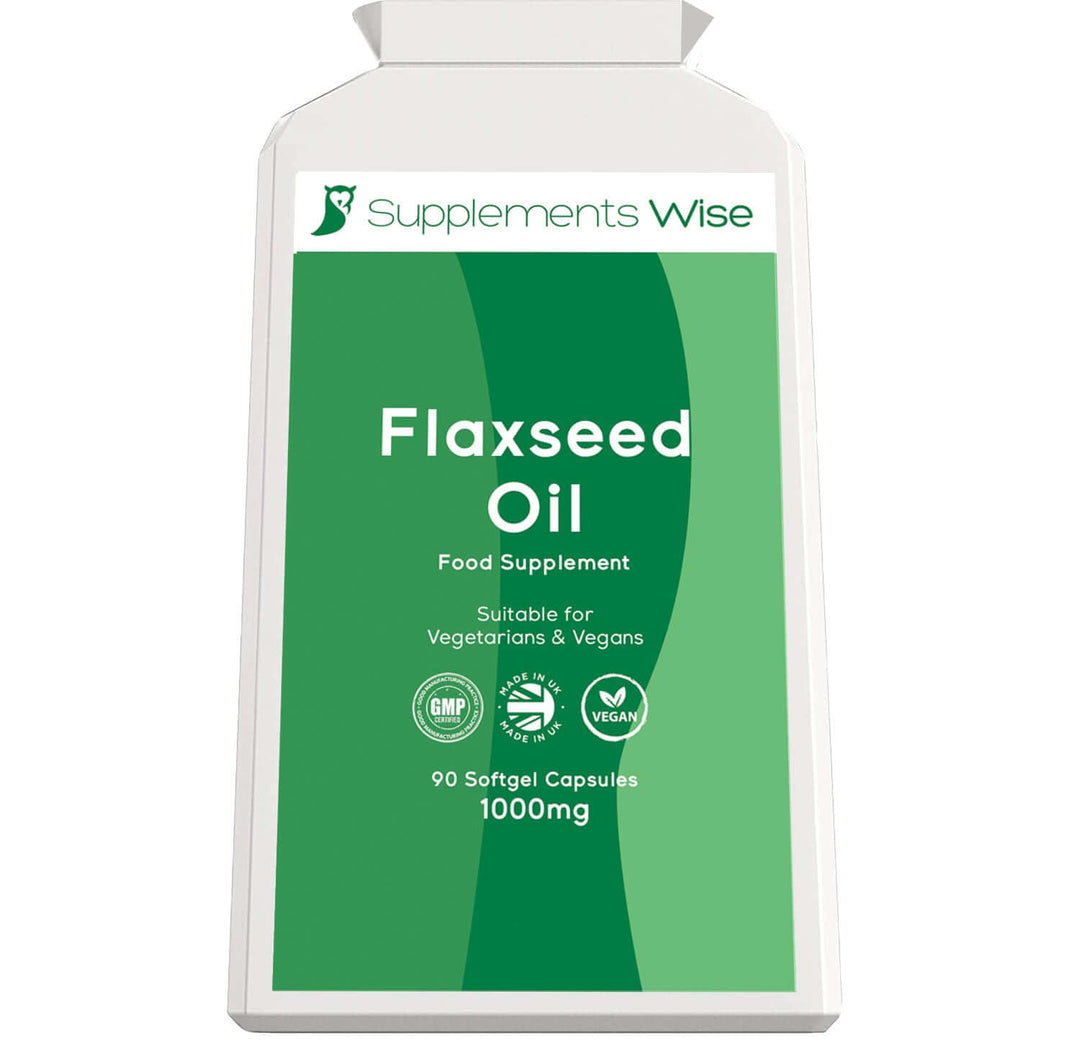 Flaxseed Oil Capsules 90 x 1000mg
Flaxseed Oil Capsules 90 x 1000mg
In stock, ready to ship

Inventory on the way
INGREDIENTS
Flaxseed Oil 1000mg Soft Gel Capsule Shell (Carrageenan, Modified Starch, Glycerin, Purified Water). Providing: Alpha Liolenic Acid 500mg Linoleic Acid 140mg Oleic Acid 140mg 
PRODUCT DETAILS
Take up to 2 capsules per day with a meal.
Not intended for those under the age of 18
Do not exceed stated dose
Suitable for vegetarians and vegans
Letterbox friendly packaging
Manufactured in the UK to strict GMP standards If you are on medication, under medical supervision, pregnant or nursing always consult your GP before taking health supplements. You should not take supplements as a substitute for a varied balanced diet. Side-effects from this supplement are rare but please discontinue use and contact your GP immediately in the event of an adverse reaction.
Supplements Wise flaxseed oil capsules are obtained from the seeds of the flax plant, which are cold pressed for maximum protection and quality. Flaxseed oil contains high amounts of omega-6 and omega-9 fatty acids with the highest amount of omega-3 fatty acids of all oils available on the market.
Approximately 55% of each capsule is pure alpha linolenic acid. Medical specialists and nutritionists from around the world have studied the effects of flaxseed oil on a healthier diet due to its high fibre and potassium content. However, in recent years, attention has been diverted towards the high content of alpha linolenic acid.
Our flaxseed oil 1000mg capsules provide an important source of unsaturated fatty acids. One of the most beneficial acids is the alpha linolenic acid. This aids the immune system in fighting against inflammation and can support normal joint health.
Each capsule contains high amounts of dietary fibres, lignans, and gamma-tocopherol which are useful for digestion.