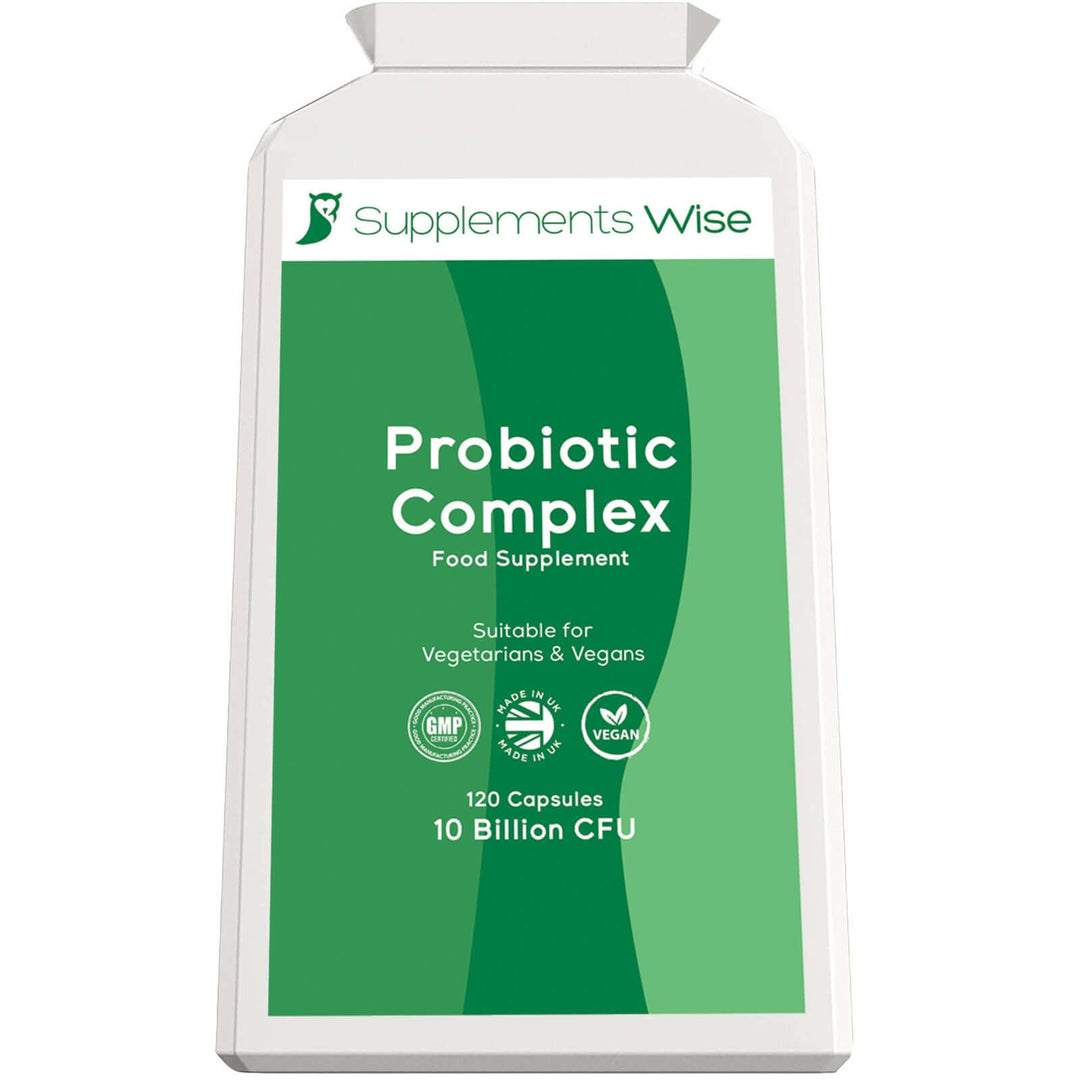 Probiotic Complex Capsules 120 x 10 Billion CFU
Probiotic Complex Capsules 120 x 10 Billion CFU
Regular price
£1695
£16.95
In stock, ready to ship

Inventory on the way
INGREDIENTS
1 capsule typically provides:
Fructooligosaccarides (FOS) 40mg Active Live Culture Blend 10 Billion CFU including: Bifidobacterium lactis Bifidobacterium bifidum Bifidobacterium longum Lactobacillus acidophilus Lactobacillus casei rhamnosus Streptococcus thermophilus Ingredients: Bulking Agent: Maltodextrin, Capsule Shell: (Hydroxypropyl Methylcellulose, Gellan Gum), Fructooligoscccharides (from Inulin), Active Live Culture Blend: (Bifidobacterium longum, Bifidobacterium bifidum, Lactobacillus acidophilus, Streptococcus thermophiles, Lactobacillus casei rhamnosus, Bifidobacterium lactis, Maltodextrin, Corn Starch), Anti-Caking Agent: Magnesium Stearate.
Store in a cool, dry place out of reach of children. This is a food supplement which is not a substitute for a balanced diet.
PRODUCT DETAILS
Take up to 2 capsules, twice per day with food - do not swallow with hot drinks
Refrigeration not required
Not intended for those under the age of 18
Do not exceed stated dose unless under medical supervision
Suitable for vegetarians & vegans & dairy free
Letterbox friendly packaging
Manufactured in the UK to strict GMP standards
If you are on medication, under medical supervision, pregnant or nursing always consult your GP before taking health supplements. You should not take supplements as a substitute for a varied balanced diet. Side-effects from this supplement are rare but please discontinue use and contact your GP immediately in the event of an adverse reaction.
Supplements Wise probiotic complex capsules provide a high strength probiotic blend supplement with 6 strains of bacteria and 10million CFU in each capsule. Each pack contains 120 capsules and will last up to 2 months. Use probiotic supplements for digestion and balancing friendly bacteria in your gut. This can have a huge knock on effect to the overall health of the rest of your body.
Supplements Wise probiotic complex contains bifidobacteria, lactobacillus and streptococcus plus fructooligosaccharides, amongst other strains, housed in a delayed release, stomach acid resistant capsule. This means that the probiotics are not destroyed in the stomach and can go on to yield their benefits in your digestive system.
It is believed that a healthy stomach means a healthy body so, as well as stomach conditions, probiotics can also help with skin allergies, anxiety and depression, heart health and the immune system. Also available in packs of 60.