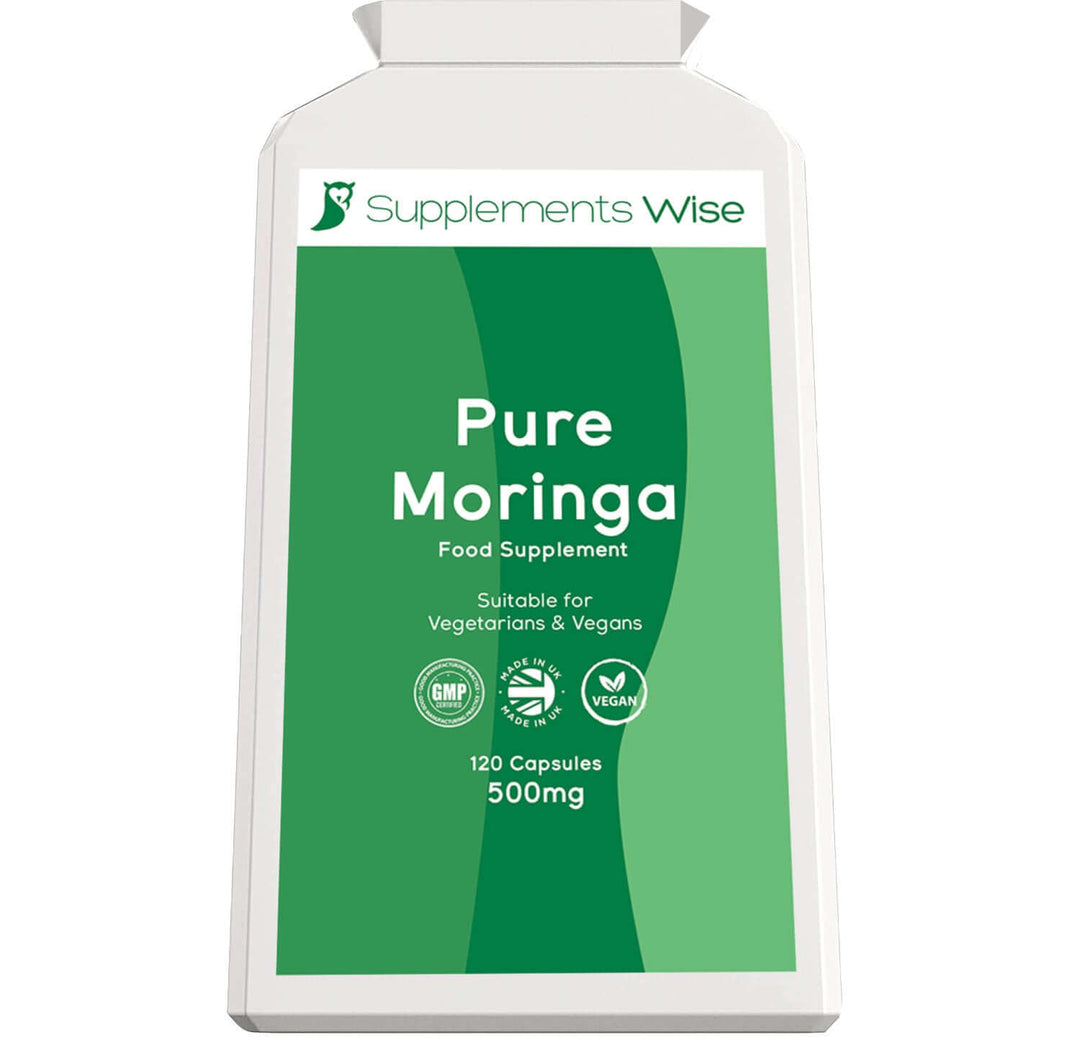 Pure Moringa Capsules 120 x 500mg
Pure Moringa Capsules 120 x 500mg
Regular price
£1295
£12.95
In stock, ready to ship

Inventory on the way
Supplements Wise Pure Moringa Capsules provide high amounts of proteins, vitamins, nutrients and antioxidants. There are over 30 different antioxidants present in Moringa oleifera leaves, making them one of the most potent plants that can prevent cellular damage that may be caused by free radicals. Furthermore, Moringa leaves contain sulphur, which is essential for the production of collagen and keratin, the two main components of the human skin.
The Moringa oleifera tree is a plant most commonly found in the sub-Himalayan areas of India, but can also be found in Bangladesh, Pakistan, Afghanistan, and in tropical areas. Moringa has been used by natives for hundreds of years as medication for different diseases. Ayurveda alternative medicine has been using the roots, fruits, seeds, and bark for hundreds of years. Recently, it has been studied and developed into a supplement that can be used together with medication to treat and prevent various medical conditions.
Everything from the roots, bark, seeds, flowers, fruits, and leaves of the Moringa tree is edible. This aspect makes the Moringa tree invaluable for its health benefits. Each leaf contains every essential amino-acid; vital for the production of proteins, hormones, and neurotransmitters, and which cannot be synthesized by the human body. Moringa supplements have also been shown to promote faster healing in case of minor injuries. Other moringa benefits may include liver support, joint pain and arthritis relief, aids digestion issues, acts as an anti-inflammatory and strengthens the immune system.
Our Pure Moringa Capsules house the entirety of the Moringa leaf benefits, including over 90 different nutrients, in a powder form with 500mg in each one. High amounts of vitamin A, vitamin C, iron, calcium, potassium, magnesium, phosphorus, and zinc can be found in each Pure Moringa Capsule. Each of these nutrients can be found in Moringa leaves in higher quantities than in other types of food.
Our vegan capsules are easy to swallow, not chalky like tablets and contain only moringa with no fillers, binders or mixers.
Ingredients Per Capsule:
Pure Moringa 500mg. HPMC Capsule Shell Store in a cool, dry place out of reach of children. This is a food supplement which is not a substitute for a balanced diet.
PRODUCT DETAILS
Take 1 capsule 2 times per day with water
Not intended for those under the age of 18
Do not exceed stated dose unless under medical supervision
Suitable for vegetarians & vegans
Letterbox friendly packaging
Manufactured in the UK to strict GMP standards
If you are on medication, under medical supervision, pregnant or nursing always consult your GP before taking health supplements. You should not take supplements as a substitute for a varied balanced diet. Side-effects from this supplement are rare but please discontinue use and contact your GP immediately in the event of an adverse reaction.