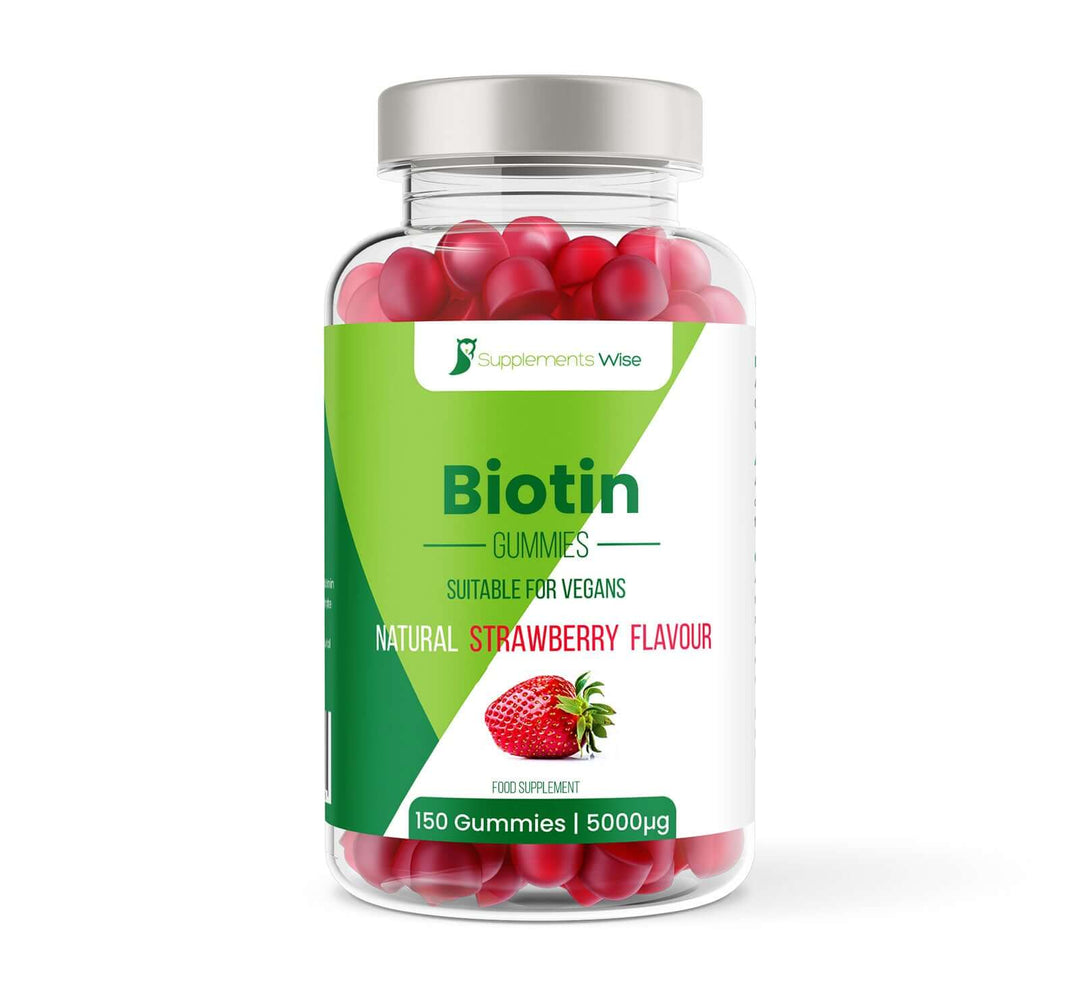 Biotin Gummies 150 x 5000ug Natural Strawberry Flavour
Biotin Gummies 150 x 5000ug Natural Strawberry Flavour
Regular price
£1595
£15.95
In stock, ready to ship

Inventory on the way
PRODUCT DETAILS
Take 1 or 2 each day

Gummies should be chewed and not swallowed whole

Do not exceed the stated dose

Store in a cool, dry & dark place, under 25 degrees, out of reach of children

Suitable for vegetarians and vegans
Letterbox friendly packaging
Manufactured in the UK to strict GMP standards
INGREDIENTS
One gummy typically provides:

Biotin 5000μg (*10,000% NRV)

* = NRV (Nutrient Reference Value)

Glucose Syrup, Sugar, Water, Pectin (Gelling Agent), Vitamin Pre-mix (D-Biotin, Maltodextrin), Citric Acid, Sodium Citrate (Acidity Regulator), Natural Strawberry Flavouring, Anti-sticking Agent (Coconut Oil/ Carnauba Wax), Natural colouring (Anthocyanadins)

If you are on medication, under medical supervision, pregnant or nursing always consult your GP before taking health supplements. You should not take supplements as a substitute for a varied balanced diet. Side-effects from this supplement are rare but please discontinue use and contact your GP immediately in the event of an adverse reaction.
DESCRIPTION
Natural Strawberry Flavor Burst: Indulge your taste buds in the delightful natural strawberry flavour of our Biotin Gummies. We believe that nourishing your hair should be a treat for your senses too!
Biotin for Hair Health: Unleash the power of Biotin for luscious, vibrant hair! Our Biotin Gummies are formulated to provide 10,000ug of biotin per 2 gummy serving, supporting your hair growth and overall hair health. Say goodbye to dull, lifeless locks and hello to a crowning glory that shines.
Pure and Natural Ingredients: We prioritize your health, and that's why our Biotin Gummies are made with carefully selected, high-quality ingredients. We're committed to providing you with a supplement that is not only effective but also pure and natural.
Biotin Gummies UK: Proudly made and sourced in the UK, our Biotin Gummies meet the highest standards of quality. Trust in a product that's crafted with precision, care, and a touch of British excellence.
Convenient Daily Dosage: Our Biotin Gummies offer a hassle-free way to incorporate this essential vitamin into your daily routine. With a recommended dosage of up to 2 gummies per day, achieving your beauty goals has never been more convenient.
150 Gummies Per Bottle: We believe in providing you with value that lasts. Each bottle contains 150 delicious gummies, ensuring you have a steady supply to support your hair health journey.
Biotin Gummies for Hair Growth: Experience the transformation as your hair becomes stronger, shinier, and more resilient with our Biotin Gummies for hair growth. Join countless individuals who have made the switch to healthier, happier hair.
Transform your hair from the inside out with our irresistible chewable Biotin Gummies. Elevate your daily routine and embrace the beauty of vibrant, nourished hair. Order your bottle today and discover the secret to radiant locks!