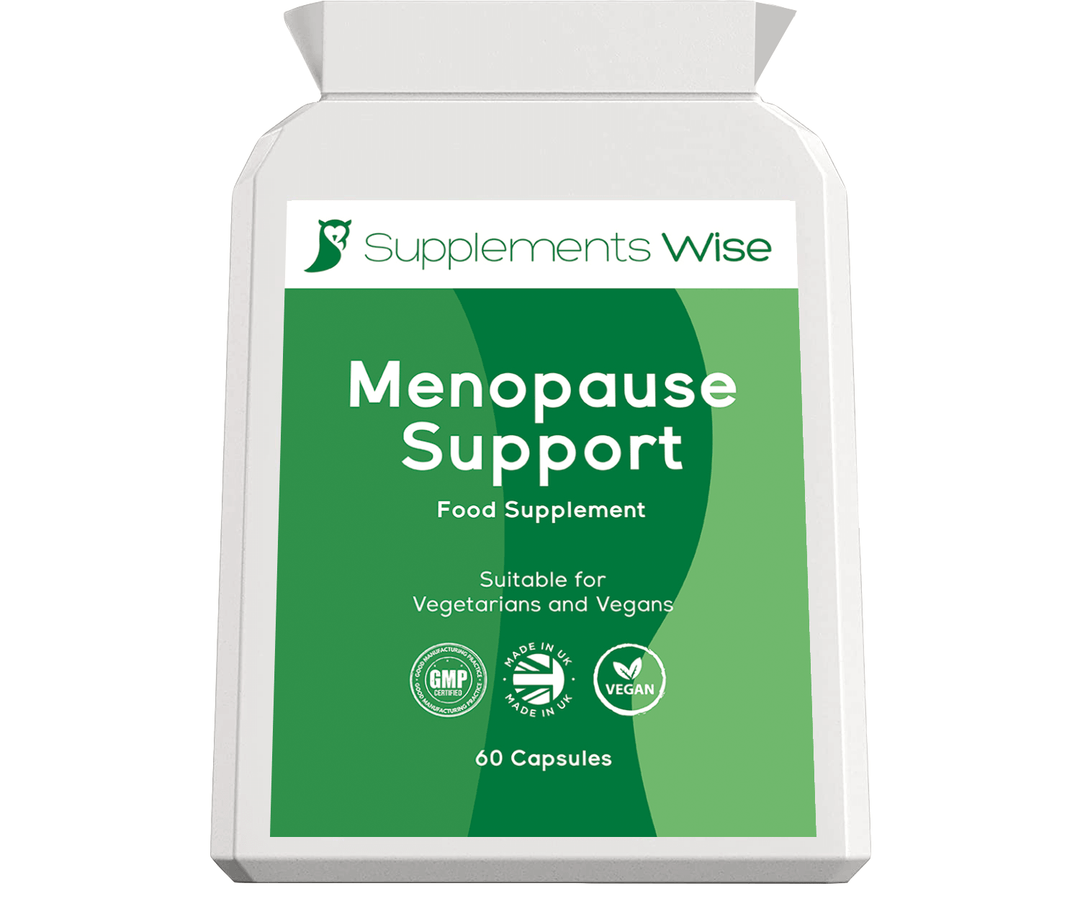 Menopause Support Capsules x 60
Menopause Support Capsules x 60
Regular price
£1295
£12.95
In stock, ready to ship

Inventory on the way
INGREDIENTS
Calcium Carbonate, Rice Flour, Capsule Shell: Hydroxypropyl Methylcellulose, Flaxseed Extract, Magnesium Oxide, Sage Leaf Extract (Colloidal Silica), Maltodextrin, Rosemary Leaf, Alfalfa Aerial Powder, Panax Ginseng Root, Soya Bean Extract (Isoflavones), Hops Bud Extract, Zinc Citrate, Vitamin B6 (as Pyridoxine Hydrochloride), Kelp, Vitamin D Prep (Lichen Vitamin D3 extract, Corn Syrup, Gum Arabic, Fractionated Coconut Oil, Silicon Dioxide, Antioxidants (D -?-Tocopherol, Sodium Ascorbate). Store in a cool, dry place out of reach of children. This is a food supplement which is not a substitute for a balanced diet.
PRODUCT DETAILS
Take 2 per day with water
Not intended for those under the age of 18
Do not exceed stated dose unless under medical supervision
Suitable for vegetarians & vegans
Letterbox friendly packaging
Manufactured in the UK to strict GMP standards
If you are on medication, under medical supervision, pregnant or nursing always consult your GP before taking health supplements. You should not take supplements as a substitute for a varied balanced diet. Side-effects from this supplement are rare but please discontinue use and contact your GP immediately in the event of an adverse reaction.
The perfect blend of herbs for meeting women's specific needs at certain times of life, our Menopause Support capsules works to help reduce the symptoms related to both the menopause and PMS. Working to fight off hot sweats, anxiety, a reduced sex drive and sleeping issues, these capsules can help to improve quality of life during hormone-related episodes. With ingredients known to regulate hormones, imbalances within the body, relieve cramps and reduce irritability, our Menopause Capsules have the ideal composition for supporting women through a confusing change. Designed to treat the symptoms associated with a decline in oestrogen production, this Menopause Support Supplement is a natural alternative or supplement to hormone replacement therapy. A useful treatment for both older and younger adults, Menopause Support Capsules can provide welcome relief to intense symptoms. Suitable for vegans and vegetarians, they can be taken up to four times a day, so that you can keep on living your best life, no matter what time of the month it is