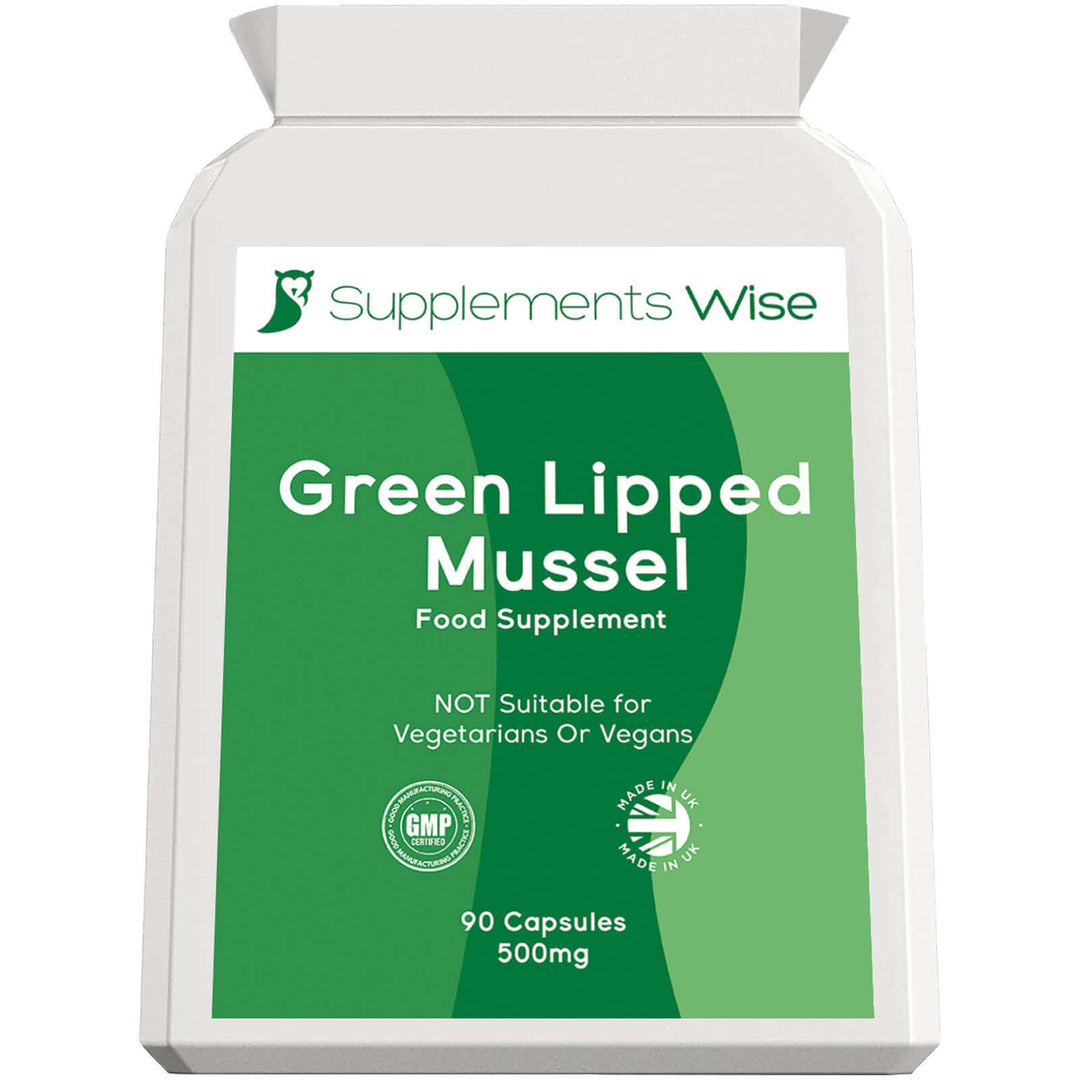 Green Lipped Mussel Capsules 90 x 500mg
Green Lipped Mussel Capsules 90 x 500mg
In stock, ready to ship

Inventory on the way
PRODUCT DETAILS
Take up to 2 capsules per day with a meal
Up to 3 month supply
Not intended for those under the age of 18
Do not exceed stated dose
NOT suitable for vegetarians and vegans
NOT suitable for those with a shellfish allergy
Letterbox friendly packaging
 INGREDIENTS
1 capsule typically provides:

Green Lipped Mussel 500mg
Vitamin C 12mg (15% NRV*)

*NRV=Nutrient Reference Intake

Green Lipped Mussel (molluscs) (Brown Rice Flour), Capsule Shell: Hydroxypropyl Methylcellulose, Vitamin C (as Ascorbic Acid).
Manufactured in the UK to strict GMP standards If you are on medication, under medical supervision, pregnant or nursing always consult your GP before taking health supplements. You should not take supplements as a substitute for a varied balanced diet. Side-effects from this supplement are rare but please discontinue use and contact your GP immediately in the event of an adverse reaction.
DESCRIPTION
Unlock the extraordinary benefits of nature's powerhouse with our Green Lipped Mussel Capsules – the ultimate supplement for both humans and dogs. Each pack contains 90 capsules, providing a daily serving of up to 2 capsules, each packed with a potent 500mg of pure green lipped mussel extract.
Why choose our Green Lipped Mussel Capsules?
✅ Natural Joint Support: Experience the wonders of green lipped mussel, renowned for its exceptional joint health properties. Our green lipped mussel supplement for humans is a natural and effective way to support your joints, promoting flexibility and ease of movement.
✅ Holistic Wellness for Humans and Dogs: Whether you're seeking relief for yourself or your furry companion, our capsules are designed for both. Embrace the benefits of green lipped mussel for enhanced well-being.
✅ Premium Quality, Pure Extract: We pride ourselves on delivering the highest quality green lipped mussel extract. Our capsules are carefully crafted to capture the full spectrum of nutrients, ensuring maximum potency and effectiveness.
✅ Convenient Daily Dosage: With a daily serving of up to 2 capsules, incorporating our Green Lipped Mussel Capsules into your routine is effortless. Elevate your health and that of your pet with ease.
✅ Trusted Source: Our commitment to quality extends to every aspect of our product. Rest easy knowing you're choosing a supplement backed by research, integrity, and a passion for holistic well-being.
✅ For Your Furry Friends: Discover the perfect solution for your dog's joint health. Our Green Lipped Mussel for dogs offer the same exceptional benefits, tailored to support their active and playful lifestyle.
Green Lipped Mussel Capsules are made using the mollusk perna canaliculus, also known as the Green Lipped Mussel, which is found off the coast of New Zealand. They are high in nutrients and enzymes as a result of exposure to a large amount of sunlight throughout their life.
They contain a dried powder extract of Green Lipped Mussel, high in glycoproteins and a rich source of amino acids, vitamin b12, selenium and zinc.
Our Green Lipped Mussel Capsules for humans and dogs use mussels that are processed as soon as the harvesting process is complete, they are one of the freshest and most potent around, with 500mg of 100% pure green lipped mussel extract per capsule. 
Now with added vitamin c! Our dog joint supplements also contain green lipped mussel. Also check out some of our genuine green lipped mussel reviews at our amazon listing.