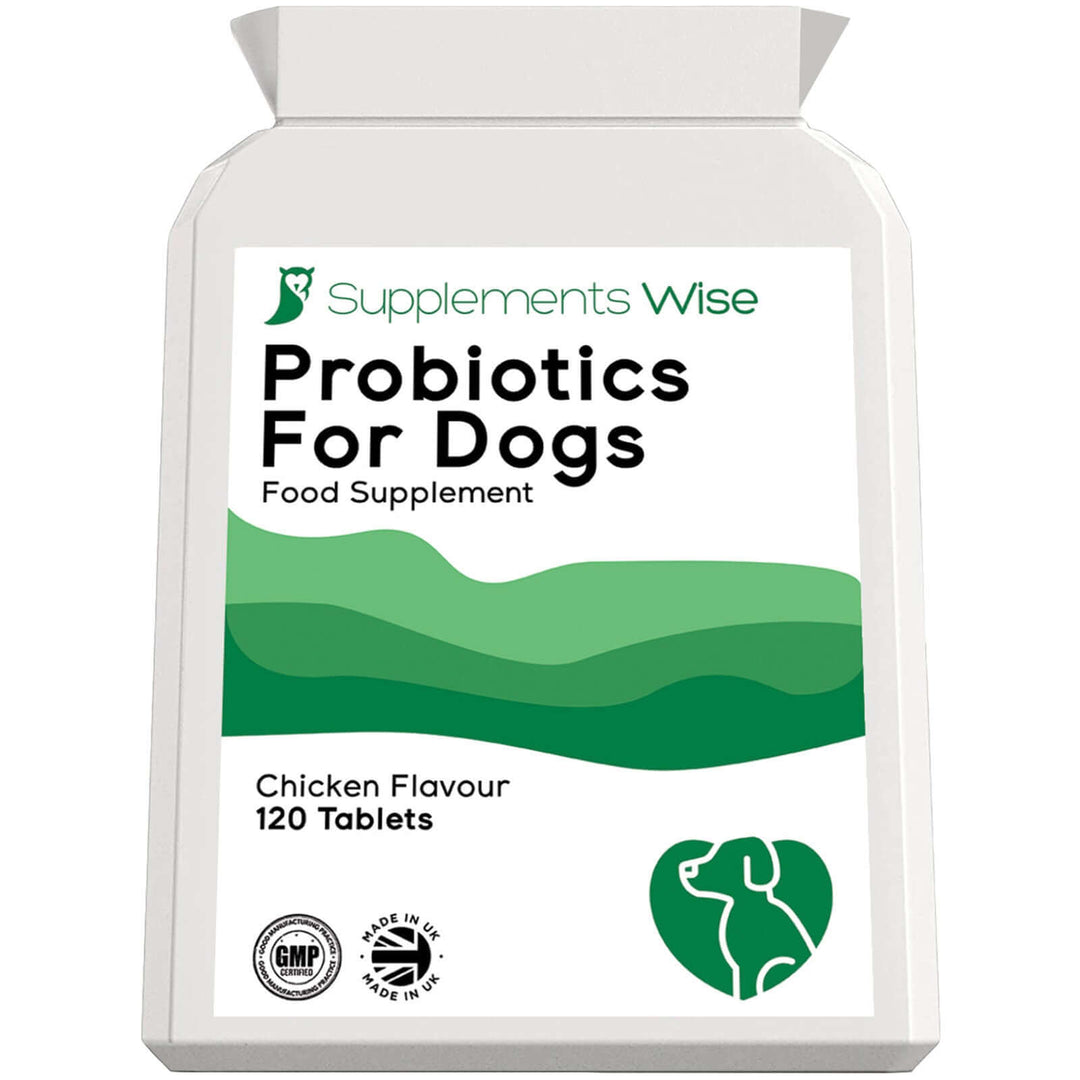 Probiotics For Dogs 120 Chicken Flavour Tablets
Probiotics For Dogs 120 Chicken Flavour Tablets
Regular price
£1995
£19.95
In stock, ready to ship

Inventory on the way
PRODUCT DETAILS
Serving can be given based on approximately 1 tablet per 10kg of weight.
Do not exceed stated serving
Please consult a vet if your dog is under medical supervision
Suitable for vegetarians and vegans
Letterbox friendly packaging
Manufactured in the UK, with human grade ingredients, to strict GMP standards
INGREDIENTS
Probiotic Blend 2 billion cfu: - Lactobacillus Acidophilus - Lactobacillus Plantarum - Lactobacillus Brevis - Bifidobacterium Animalis Lactis - Lactobacillus Rhamnosus Digestive Enzymes Blend 150mg - Amylase, Protease, Lipase, Cellulase, Lactase, Bromelaine inulin 250mg Other Ingredients: Microcrystalline Cellulose, Di Calcium Phosphate, Chicken Flavouring, Magnesium Stearate. Chicken flavour chewable tablets. Store in a cool, dry place out of reach of children.
If your pet is on medication, under medical supervision, pregnant or nursing always consult your vet before administering health supplements. Side-effects from this supplement are rare but please discontinue use and contact your vet immediately in the event of an adverse reaction.
DESCRIPTION
Supplement Wise Probiotics for Dogs have been formulated to support your furry friends' digestion, gut health and immune system. They are made up of a variety of ingredients known to support the canine digestive system; five different probiotic blends, a range of digestive enzymes and inulin prebiotic.
The beneficial bacteria cultures used are those usually found in the gut of dogs; lactobacillus acidophilus, lactobacillus plantarum, lactobacillus brevis, bifidobacterium animalis lactis and lactobacillus rhamnosus. All this good bacteria can help to build back a defence against the build up of bad bacteria. This can reinvigorate the digestive tract of your dog after stomach problems or if they are displaying issues such as loose stools or gas.
How do you know if your dog needs a probiotic?
There can be many tell-tale signs that your loyal pal may need to use probiotics for dogs; both behavioural and physical. You may notice them whining, scratching, pacing or panting when you would normally not expect them to. You can also look out for excessive itching, scratching and shedding as well as dry skin or ear problems. Other signs are bad breath and a general bad smell to their coat and body as well as their stool. We know how important the health of your dog is to you which is why we have created one of the best dog probiotic blends on the market.
Our premium dog probiotics are carefully made to a human food grade standard, proudly manufactured in the UK to strict Good Manufacturing Practice and ISO 9001 standard, meaning you can be confident in their safety and quality. You can administer our probiotics for dogs whole, or crush them up and sprinkle over their usual food if required. The chewy tablets have a delightful chicken flavour, taking all the fuss out of mealtimes. Don't just take our word for it; check out some reviews from hundreds of happy pet owners over at our Amazon listing here.
Are dog probiotics and human probiotics the same?
While there are no strict reasons you could not give your dog the same probiotic you take yourself we would always advise against it. We and our best pooch pals have a different immune system and what works for us could be harmful to them. It is always safer to give them a dog specific probiotic such as ours, as well as one made in UK. Human probiotic blends have not been tested for efficacy on dogs and therefore it is unknown what the results could be.
We have a whole range of popular and effective supplements and vitamins for dogs. For example, if your dog is also suffering from bladder problems, then you may like to try bladder support for dogs.