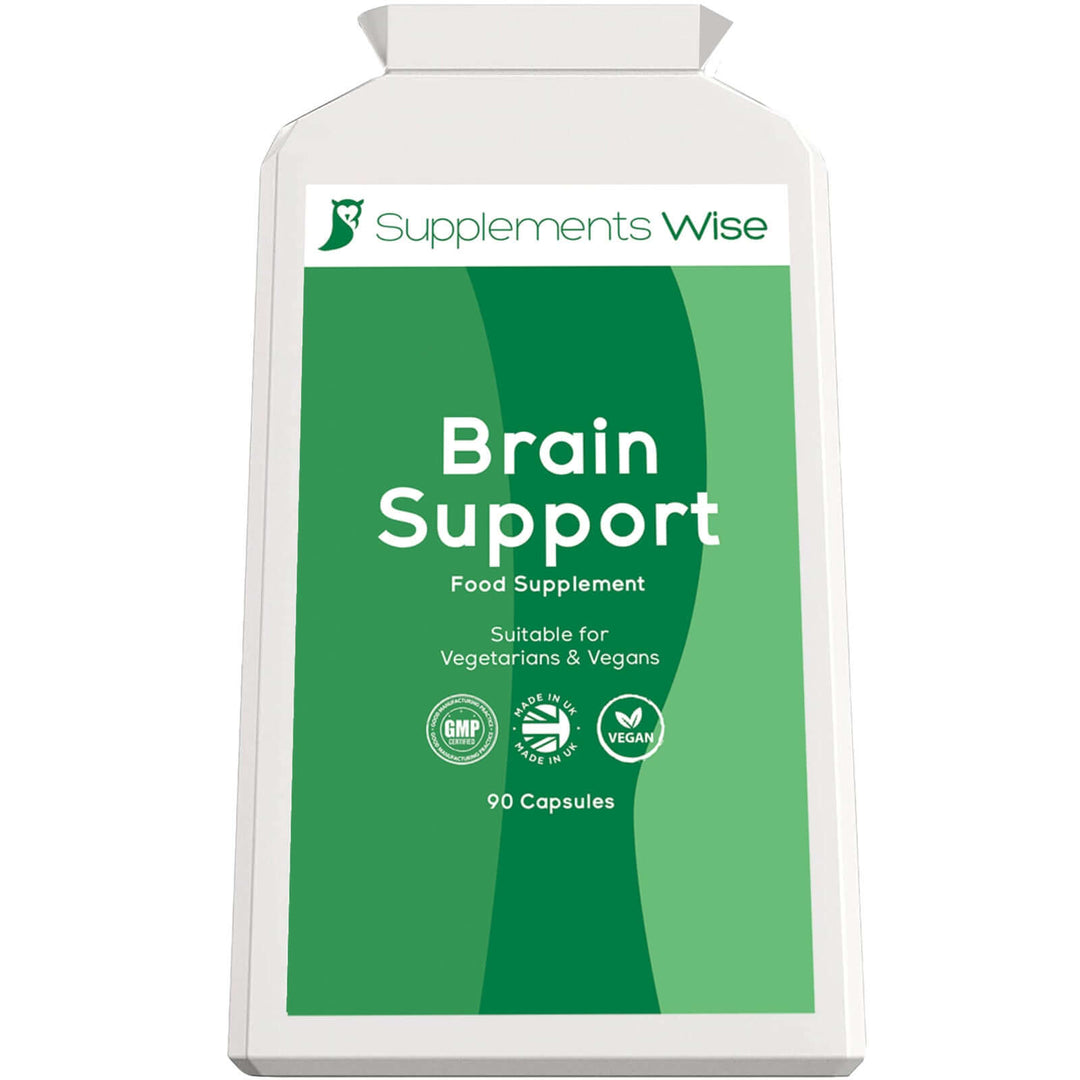 Brain Support Supplement With Ginkgo Biloba
Brain Support Supplement With Ginkgo Biloba
Regular price
£1595
£15.95
In stock, ready to ship

Inventory on the way
INGREDIENTS
Per 2 capsule serving; Vitamin C 80mg (100% NRV) Iron 10mg (71% NRV) Vitamin E (d-Alpha tocopherol) 8mg (67% NRV) Pantothenic Acid (Vit B5) 6mg (100% NRV) Zinc 5mg (50% NRV) Vitamin B1 (Thiamin) 2mg (182% NRV) Folic Acid 200µg (100% NRV) Vitamin B12 (cyanocobalamin) 2µg (80% NRV) Other Ingredients: Ginkgo Biloba Extract 40mg 50:1 (providing equivalent 2000mg), Choline Bitartrate 300mg, Betaine (trimethylglycine) 100mg, L-Carnitine 100mg, Lecithin 5mg 20:1 (providing equivalent 100mg), Bacopa Monnieri 100mg, L-Theanine 50mg, L-Tyrosine 50mg, Alpha Lipoic Acid (ALA) 50mg, Soy Isoflavones providing 40mg, Phosphatidylserine 40mg, Co Enzyme Q10 30mg, Black Pepper Extract (as Bioperine®) 5mg, Hydroxypropyl Methylcellulose (HPMC) Capsule Shell.. *NRV = Nutrient Reference Value, µg = microgram, mg = milligram, IU = International Units. 
PRODUCT DETAILS
Take 2 capsules with a meal and water
Contains ginger, rice and corn
Manufactured in a factory that also handles allergy based materials such as nuts, seeds, milk, egg, cereals, soya, mustard, celery, fish, crustaceans and sulphites.
Do not exceed stated dose unless under medical supervision
Suitable for vegetarians & vegans
Letterbox friendly packaging
Manufactured in the UK
If you are on medication, under medical supervision, pregnant or nursing always consult your GP before taking health supplements. You should not take supplements as a substitute for a varied balanced diet. Side-effects from this supplement are rare but please discontinue use and contact your GP immediately in the event of an adverse reaction.
Supplements Wise brain support complex provides a premium quality supplement containing a range of specially selected vitamins, minerals, botanicals and nutrients to help encourage normal cognitive function. Use daily to help with focus, mental performance, concentration and brain fog.
These innovative capsules can be of particular help to students working for exams, people in high stressed jobs or simply if you feel you need that little bit extra brain support and mental clarity in your life.