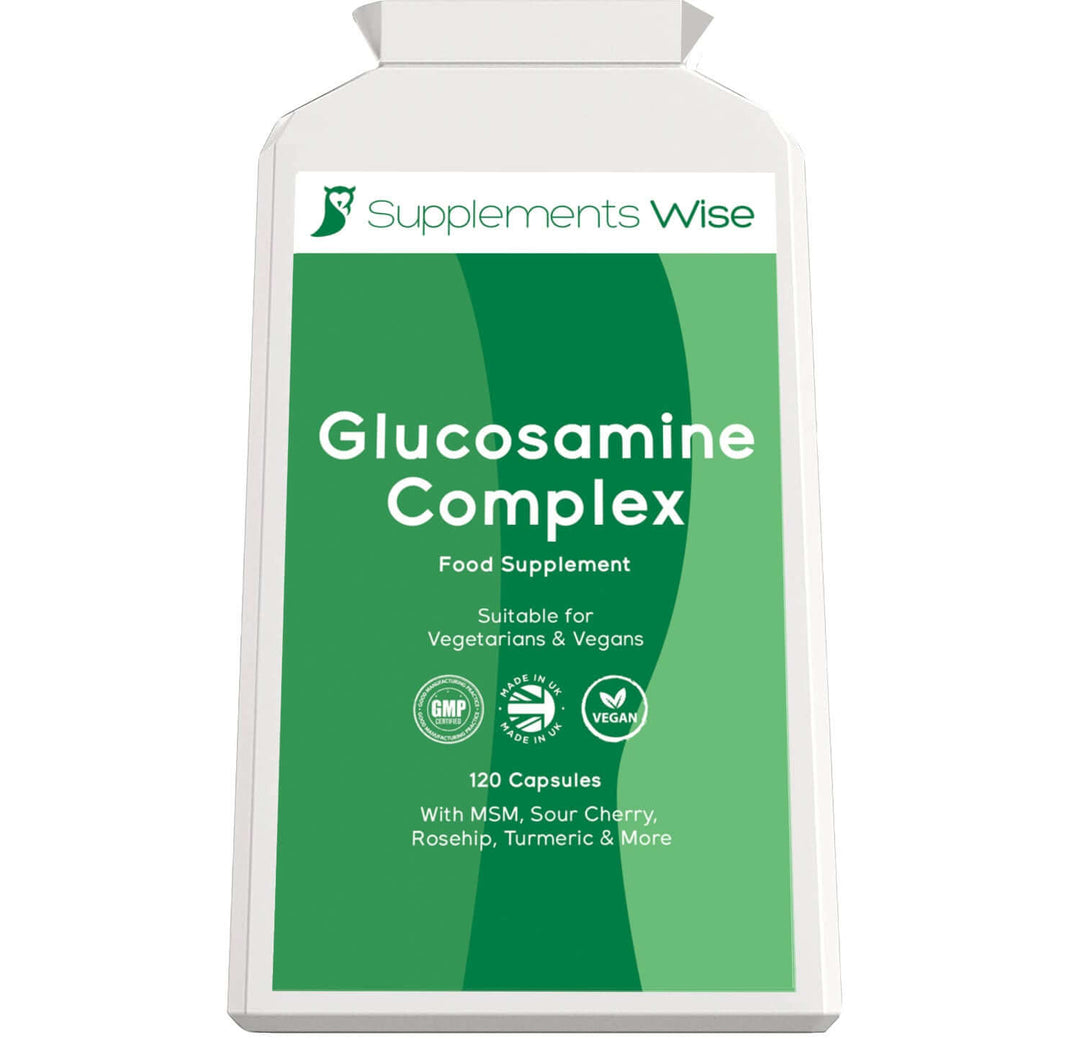 Glucosamine Complex 120 Vegan Capsules
Glucosamine Complex 120 Vegan Capsules
Regular price
£1695
£16.95
In stock, ready to ship

Inventory on the way
INGREDIENTS
Per 1 capsule; 1 capsule typically provides: Vitamin C 12mg (15% NRV*) Glucosamine 249mg - from Glucosamine Hydrochloride 300mg Methylsulfonylmethane (MSM) 200mg Turmeric 1053mg (equivalent from extract) -providing Curcumin 50mg Nettle Extract 100mg (equivalent from extract) Montmorency Cherry 20mg Panax Ginseng 100mg (equivalent from extract) Rosehip 100mg (equivalent from extract) Apple Cider Vinegar 5mg Horsetail Extract 50mg (equivalent from extract) Papain 5mg (10000u) Bromelain 5mg (6GDU) Seaweed 5mg Ginger 40mg (equivalent from extract) *NRV = Nutrient Reference Value 
PRODUCT DETAILS
Take 1 capsule up to 3 times per day
Do not exceed stated serving unless under medical supervision
Suitable for vegetarians & vegans
Letterbox friendly packaging
Manufactured in the UK
If you are on medication, under medical supervision, pregnant or nursing always consult your GP before taking health supplements. You should not take supplements as a substitute for a varied balanced diet. Side-effects from this supplement are rare but please discontinue use and contact your GP immediately in the event of an adverse reaction.
Supplements Wise glucosamine complex capsules are a high strength, natural blend of glucosamine along with 13 herbs and botanicals known for their synergystic support for stiff joints. These are vitamin c, MSM, turmeric curcumin, nettle, montmorency cherry, ginseng, rosehip, apple cider vinegar, horsetail, papain, bromelain, seaweed and ginger.
Glucosamine Hydrochloride is used instead of sulphate as it is more bioavailable and therefore easily absorbed and stored by the body which means more effectiveness for you!
Our glucosamine complex is housed in capsules derived from algae and, with no animal by-products used, making it fully suitable for vegans and vegetarians.