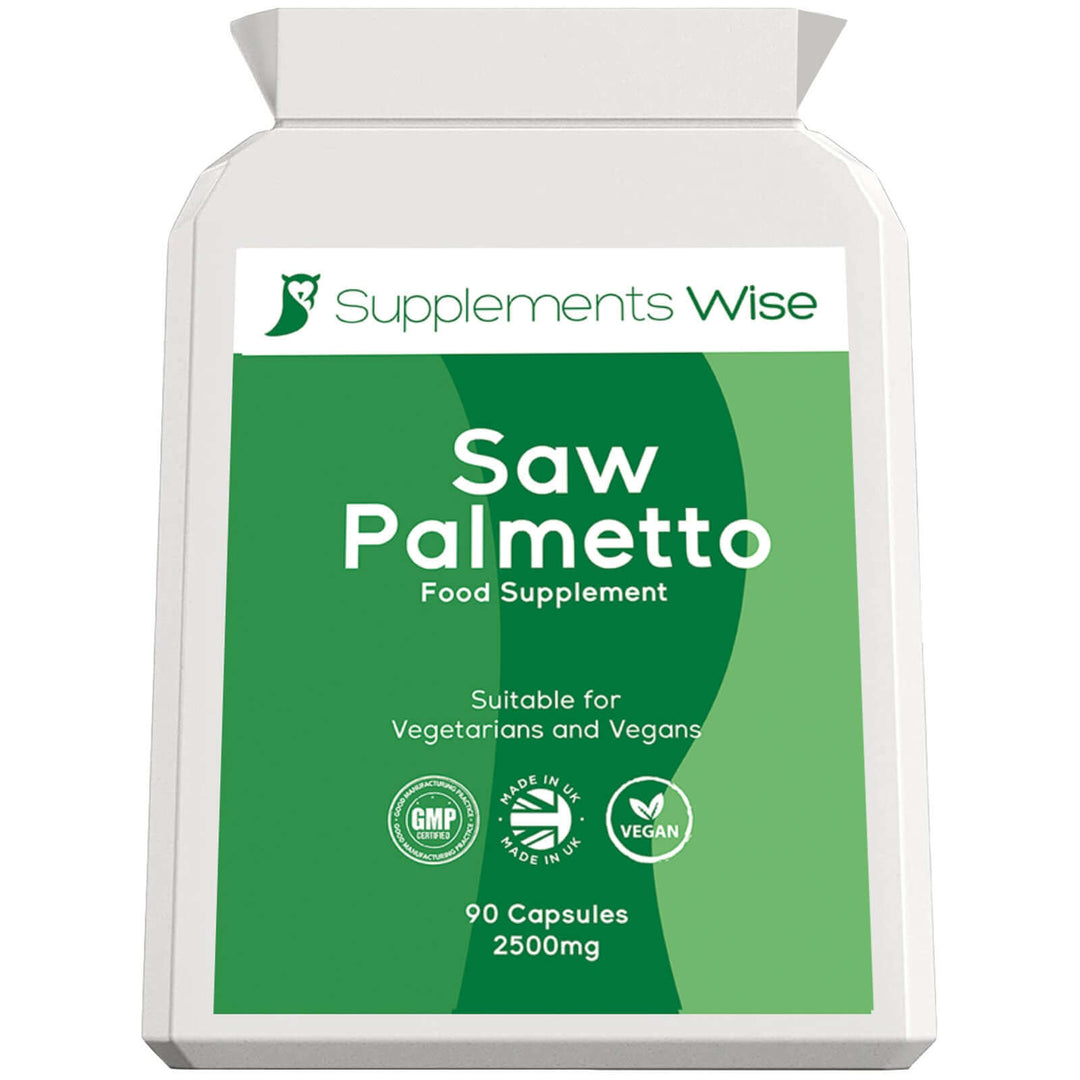 Saw Palmetto Capsules 90 x 2500mg
Saw Palmetto Capsules 90 x 2500mg
In stock, ready to ship

Inventory on the way
Supplements Wise saw palmetto capsules are produced using dried saw palmetto berries which may be effective in dealing with a number of different ailments that are linked to men's health, in particular for the prostate.
The capsules naturally contain essential fatty acids and plant sterols. Supplementing with these may help to support the urinary tract, improving your ability to pass urine and other urinary tract related symptoms.
Saw palmetto can promote testosterone production which, in turn, may reduce or prevent hair loss.
Other benefits of supplementing with saw palmetto capsules may also be for improving kidney health, hormone levels and inflammation in the body
Suitable for vegetarians and free from allergens, including gluten. Check out our 
Prostate Support Capsules
which contain saw palmetto, plus other prostate related ingredients.
 Ingredients
Saw Palmetto Extract 10:1 250mg which provides 45% Fatty Acids Equivalent to 2500mg Dried Berries Store in a cool, dry place out of reach of children. This is a food supplement which is not a substitute for a balanced diet.
PRODUCT DETAILS
Take up to 3 capsules daily with food
Do not exceed stated dose unless under medical supervision
Suitable for vegetarians & vegans
Letterbox friendly packaging
Manufactured in the UK to strict GMP standards
If you are on medication, under medical supervision, pregnant or nursing always consult your GP before taking health supplements. You should not take supplements as a substitute for a varied balanced diet. Side-effects from this supplement are rare but please discontinue use and contact your GP immediately in the event of an adverse reaction.