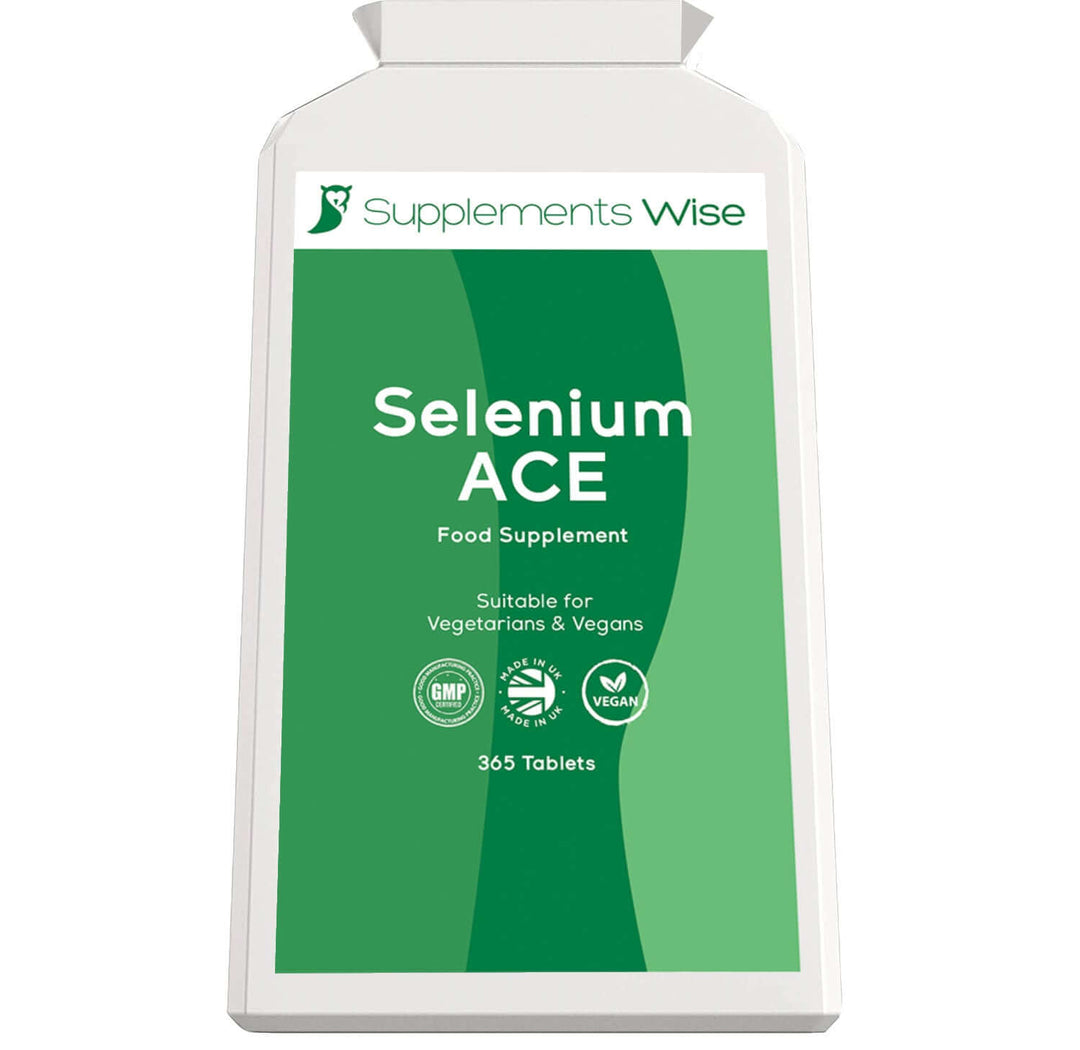 Selenium ACE 365 Tablets 1 Year Supply
Selenium ACE 365 Tablets 1 Year Supply
Regular price
£1395
£13.95
In stock, ready to ship

Inventory on the way
An essential trace element that is only available via our diet, it is often extremely beneficial to supplement with Selenium ACE Tablets. Helping to maintain proper thyroid function and healthy immune response, low selenium levels can cause a number of issues within the body. Rich in antioxidants, Selenium can improve blood flow circulation around the body, helping to support cardiovascular health. Some studies have shown that Selenium with Vitamin ACE can support fertility. Defending against oxidative stress caused by alcohol, smoking and a diet high in fats and sugar, our Selenium ACE supplements have been created to give you the optimum amount of the element on a daily basis, improving your overall health and ability to fight off illness. Our natural Selenium ACE Tablets are suitable for vegans and have been manufactured to the highest GMP standards. Our bumper pack will last six months to a year if proper dosage guidelines are followed, representing excellent value for money.
INGREDIENTS
Vitamin A (as Beta-Carotene) 800mcg Vitamin C 60mg Vitamin E 10mg Selenium 50mcg Other Ingredients: Dicalcium Phosphate, Microcrystalline Cellulose, Magnesium Stearate Store in a cool, dry place out of reach of children. This is a food supplement which is not a substitute for a balanced diet.
PRODUCT DETAILS
Take up to 2 tablets per day with food
Consult your GP if pregnant or lactating
Do not exceed stated dose unless under medical supervision
Suitable for vegetarians & vegans
Letterbox friendly packaging
Manufactured in the UK to strict GMP standards
If you are on medication, under medical supervision, pregnant or nursing always consult your GP before taking health supplements. You should not take supplements as a substitute for a varied balanced diet. Side-effects from this supplement are rare but please discontinue use and contact your GP immediately in the event of an adverse reaction.