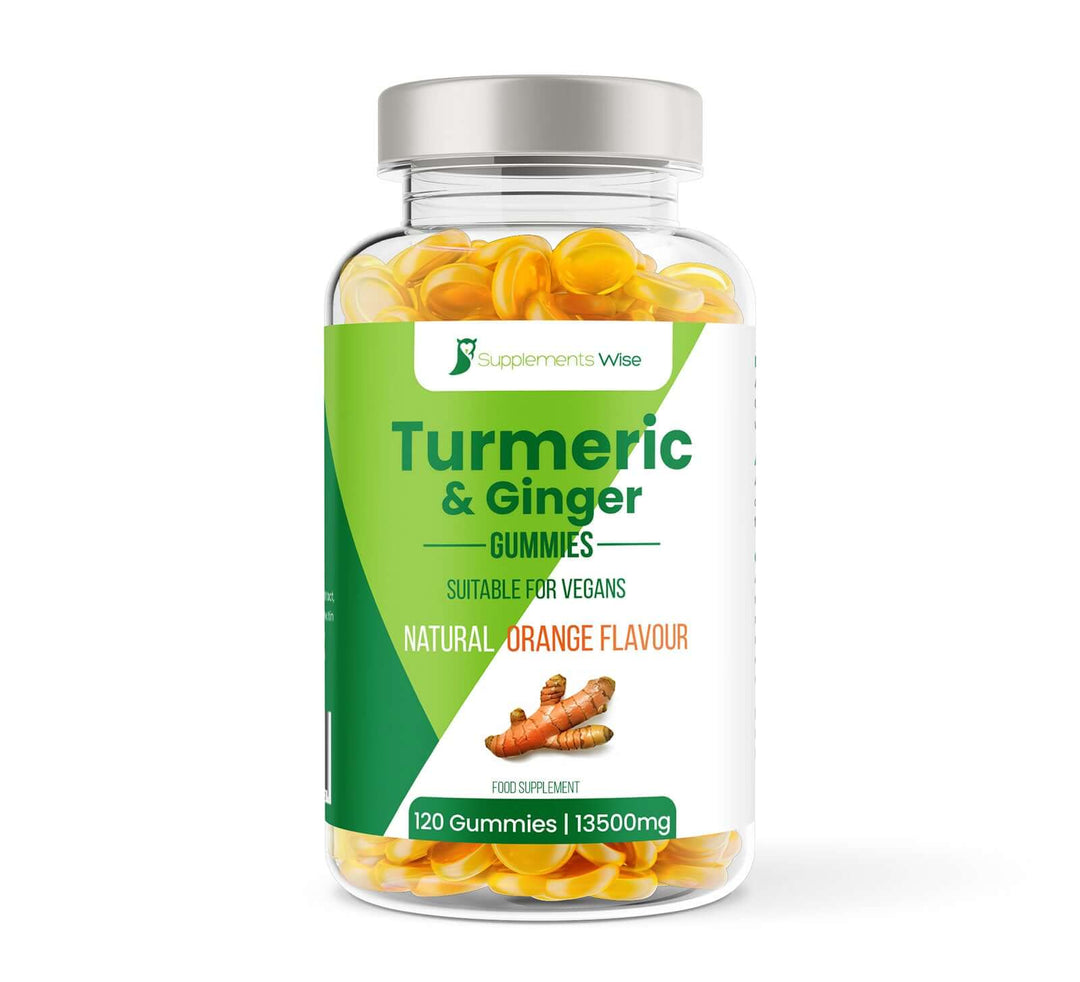 Turmeric and Ginger Gummies 120 Natural Orange Flavour
Turmeric and Ginger Gummies 120 Natural Orange Flavour
Regular price
£1595
£15.95
In stock, ready to ship

Inventory on the way
INGREDIENTS
Each serving of 2 gummies typically provides:

Turmeric (Curcuma Longa) Extract 13,500mg
- from 270mg of 50:1 Turmeric Extract
- providing 95% curcuminoids (256.5mg)
Ginger (Zingiber Officinale Roscoe) Extract 180mg
- from 12mg of 15:1 Ginger Extract

Ingredients: Glucose Syrup, Sugar (Sweeteners), Curcuma longa extract, Zingiber officinale Roscoe extract (Active ingredient), Pectin (Gelling Agent), Citric Acid (Flavour enhancer), Sodium Citrate (Acidity Regulator), Coconut Oil, Carnauba Wax (Anti-sticking agents), Orange natural flavouring.If you are on medication, under medical supervision, pregnant or nursing always consult your GP before taking health supplements. You should not take supplements as a substitute for a varied balanced diet. Side-effects from this supplement are rare but please discontinue use and contact your GP immediately in the event of an adverse reaction.

PRODUCT DETAILS
Take 2 each day

Gummies should be chewed and not swallowed whole

Do not exceed the stated dose

Store in a cool, dry & dark place, under 25 degrees, out of reach of children

Suitable for vegetarians and vegans
Letterbox friendly packaging
Manufactured in the UK to strict GMP standards
Turmeric Gummies Benefits: Discover the extraordinary benefits of turmeric in a tasty and easy-to-consume gummy. Our carefully crafted formula delivers a potent 13,500mg of turmeric per daily serving, ensuring you receive the maximum benefits of this powerful herb. Turmeric is renowned for its anti-inflammatory properties, supporting joint health and promoting overall well-being. These gummies are a delicious and convenient way to incorporate the goodness of turmeric into your daily routine.
Turmeric Ginger Gummies – A Dynamic Duo: Not just turmeric – we've added a touch of ginger to create a dynamic synergy of natural ingredients. Each serving includes 15mg of ginger, known for its potential to ease digestive discomfort and complement the anti-inflammatory properties of turmeric. This harmonious blend provides a holistic approach to wellness, supporting your body from the inside out.
Natural Orange Flavor: Say goodbye to the traditional supplement experience! Our gummies boast a natural orange flavour that makes taking your daily dose a delightful treat. No more pills or capsules – just a burst of citrusy goodness in every chewable gummy.
Powerful Dosage, Convenient Format: With 120 gummies per bottle, our Natural Orange Turmeric with Ginger Gummies are designed to last for a full 60-day supply. Take 2 gummies a day to experience the optimal 13,500mg of turmeric and 15mg of ginger, providing you with a convenient and effective way to support your health and wellness journey.
Quality Assurance: Rest easy knowing that our gummies are made with the highest standards of quality. We prioritise natural ingredients, ensuring that you get a premium product free from artificial additives. Our commitment to excellence extends to every aspect of our manufacturing process, guaranteeing a product that you can trust.
Transform your wellness routine with Supplements Wise Natural Orange Turmeric with Ginger Gummies – a flavorful fusion of nature's best, meticulously designed for your health and happiness. Embrace the power of turmeric and ginger in a tasty gummy, and make every day a step towards a healthier you