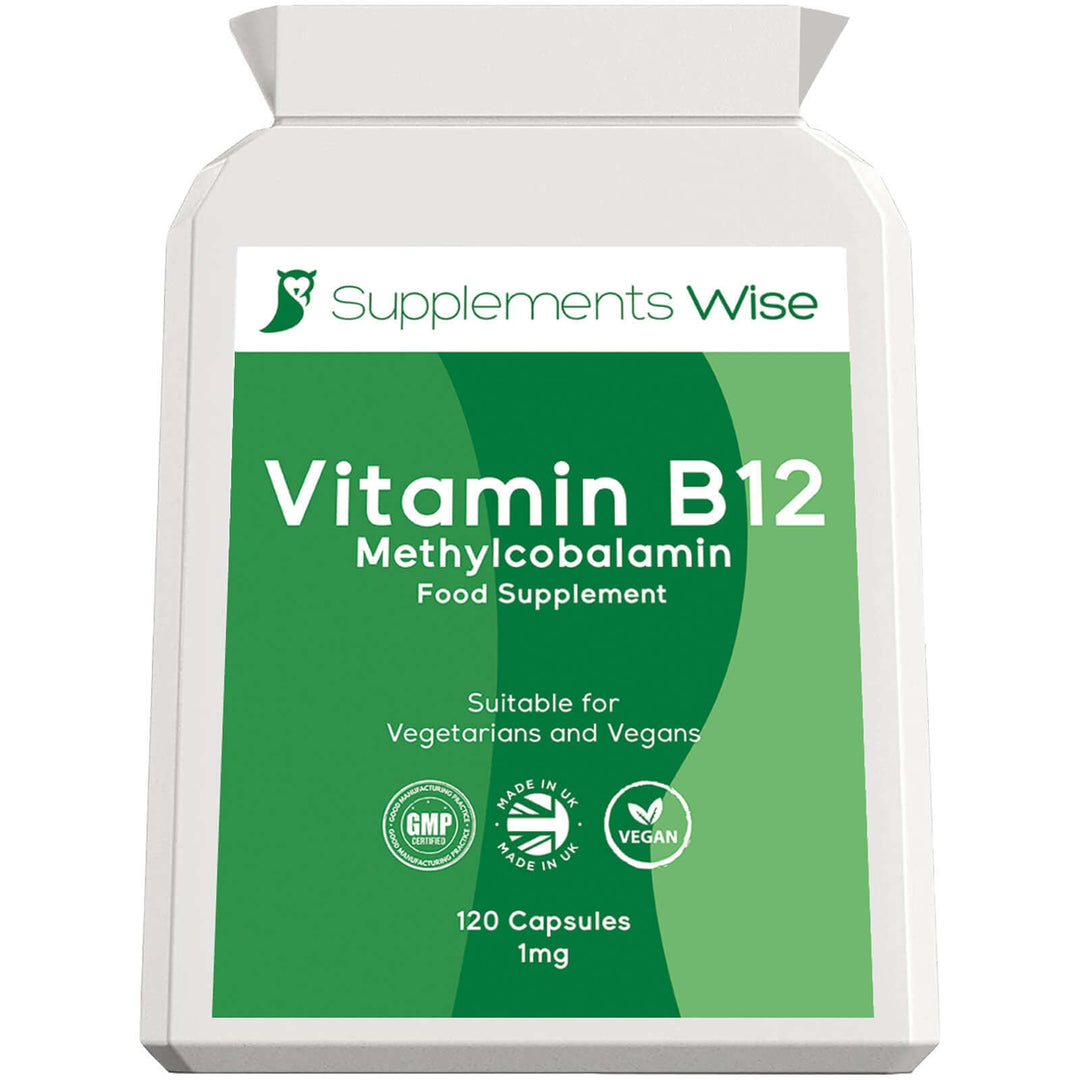 Vitamin B12 Capsules 120 x 1mg Methylcobalamin
Vitamin B12 Capsules 120 x 1mg Methylcobalamin
In stock, ready to ship

Inventory on the way
Supplements Wise vitamin b12 capsules provide a premium quality, daily B12 supplement with 1000mcg/1mg in each capsule and containing up to 4 months supply per pack. Use vitamin b12 supplements for energy production, digestion, to improve mood and for healthy hair, skin and nails.
Vitamin B12 can be found in various food sources, including liver, kidneys, oily fish, eggs and dairy products however those with vitamin b12 deficiency may require a high dose boost such as found in our tablets. Vitamin b12 is not found in vegetables, therefore vegetarians and vegans may be more likely to develop vitamin b12 deficiency.
Our vitamin b12 capsules come in methylcobalamin format which is the form most easily used by your body as it is readily active and does not need to be converted to use it.
INGREDIENTS
Vitamin B12, Maltodextrin, Microcrystaline Cellulose
1 capsule typically provides:

Vitamin B12 1000µg (40,000% NRV*)

*NRV = Nutrient Reference Value
PRODUCT DETAILS
Take 1 capsule up to twice per day with food
Do not exceed stated dose unless under medical supervision
Suitable for vegetarians & vegans
Letterbox friendly packaging
Manufactured in the UK to strict GMP standards
Contains NO Salt, Wheat, Gluten, Lactose, Dairy, Artificial Preservatives, Artificial Colours, Added Sugar or Genetically Modified Organisms (GMOs)
If you are on medication, under medical supervision, pregnant or nursing always consult your GP before taking health supplements. You should not take supplements as a substitute for a varied balanced diet. Side-effects from this supplement are rare but please discontinue use and contact your GP immediately in the event of an adverse reaction. Store in a cool, dry place out of reach of children. This is a food supplement which is not a substitute for a balanced diet.