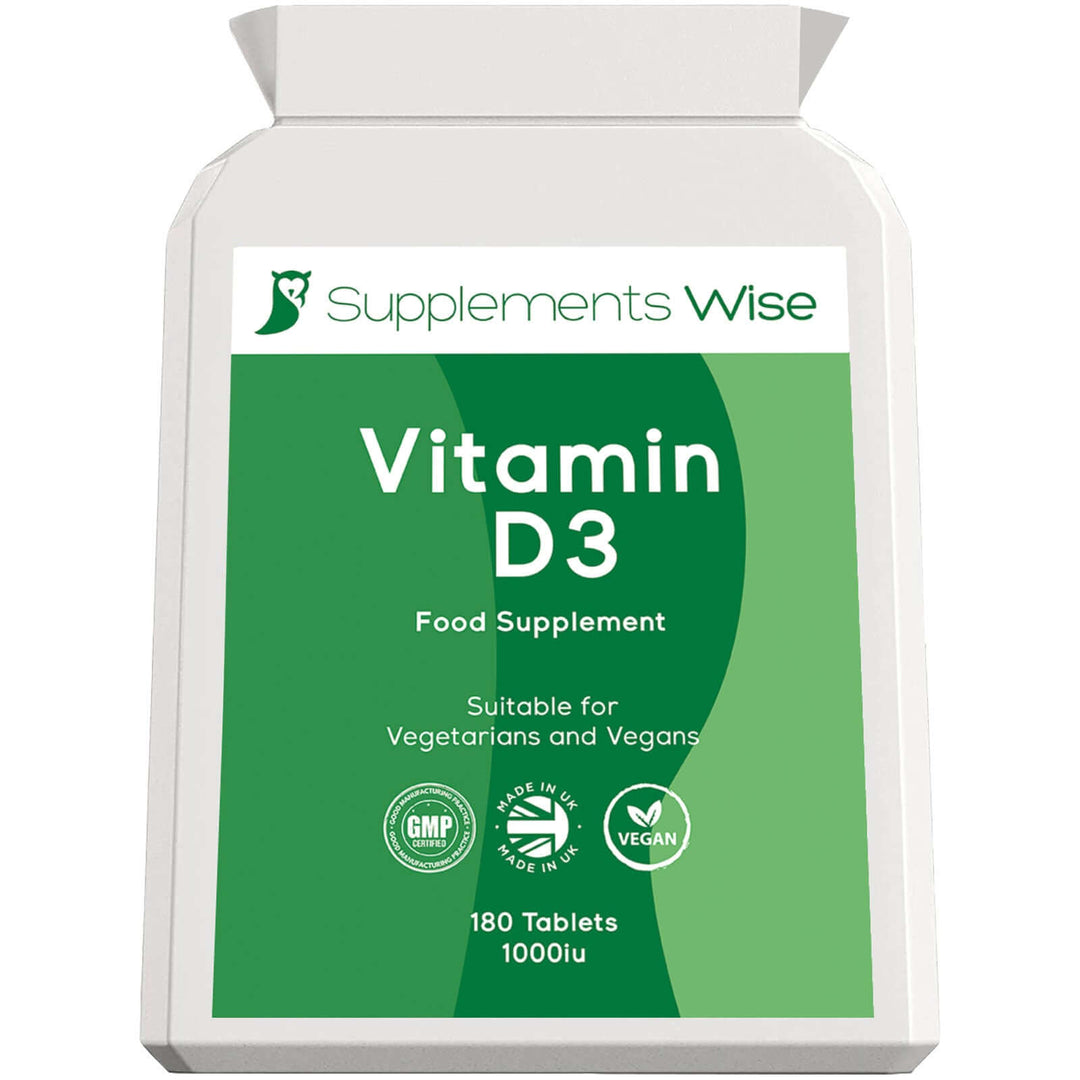 Vitamin D3 1000IU Cholecalciferol 180 Tablets
Vitamin D3 1000IU Cholecalciferol 180 Tablets
In stock, ready to ship

Inventory on the way
Supplements Wise Vitamin D3 tablets provide a 6 months supply of the 'sunshine vitamin', which occurs naturally in the body when we are exposed to sunlight. However, with the UK climate not known for it's powerful rays we often do not get the required amount which can lead to depression, seasonal affective disorder amongst other things.
By taking vitamin D3 tablets, you'll be keeping your body healthy while improving the health of your bones, immune system and nervous system. With the right intake of Vitamin D3 you can also regulate calcium and phosphorus absorption, meaning you'll maintain healthy teeth while protecting yourself effect against multiple conditions.
Our Vitamin D3 1000iu tablets provide a recommended strength supplement for your body's requirements. The optimum dose for those living in the UK is from 1100iu - 1200iu. 
This pack includes six months supply for a very low price!
INGREDIENTS:
Vitamin D3 25µg (1000IU) - 800% RDA Other Ingredients: Dicalcium Phosphate, Microcrystalline Cellulose, Stearic Acid, Silicone Dioxide. Store in a cool, dry place out of reach of children.
PRODUCT DETAILS
Take 1 tablet each day with a meal, preferably in the evening
Do not exceed stated dose
Suitable for vegetarians. NOT for vegans
Letterbox friendly packaging
Made in the UK to strict GMP standards
If you are on medication, under medical supervision, pregnant or nursing always consult your GP before taking health supplements. You should not take supplements as a substitute for a varied balanced diet. Side-effects from this supplement are rare but please discontinue use and contact your GP immediately in the event of an adverse reaction.