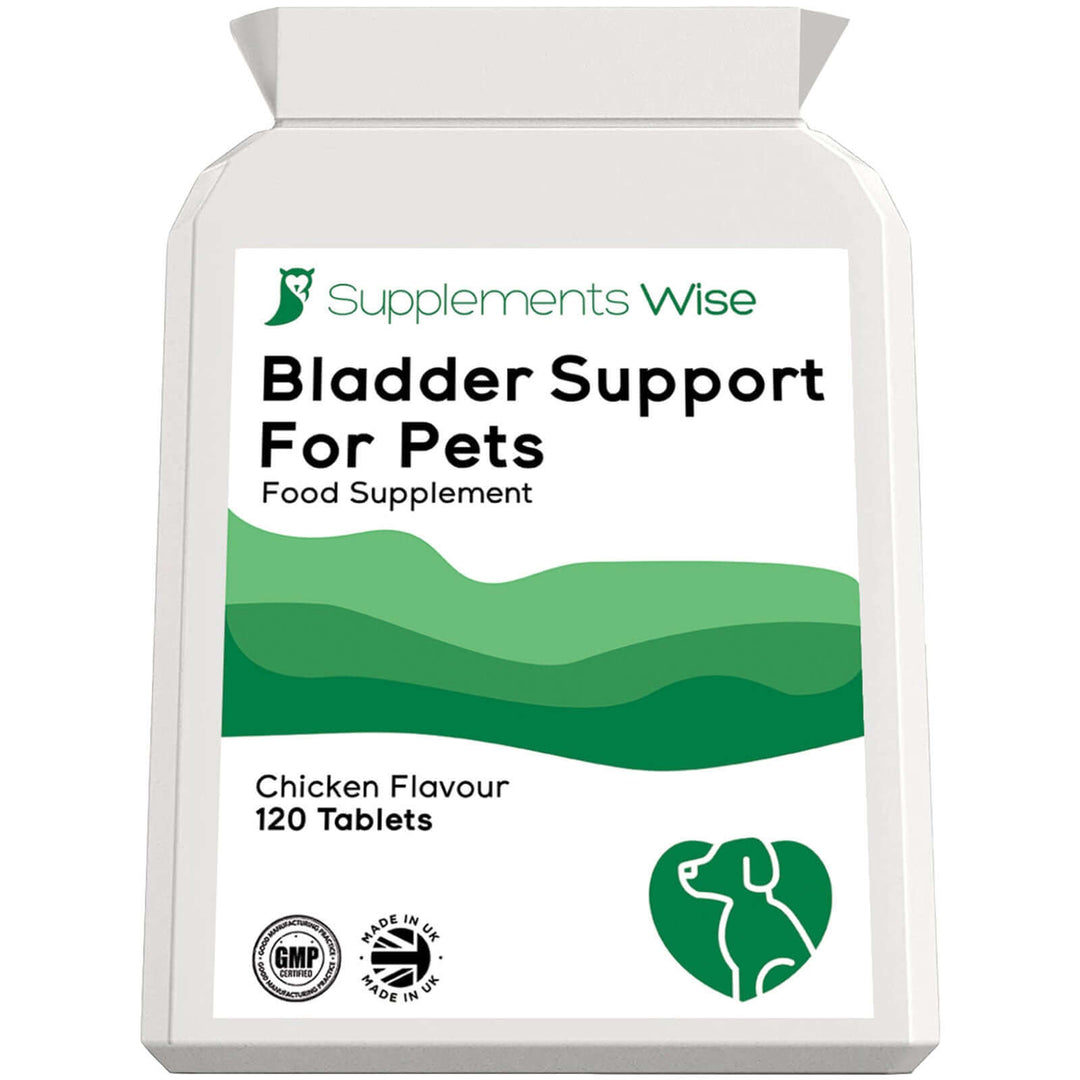 Bladder Support For Dogs 120 Tablets
Bladder Support For Dogs 120 Tablets
Regular price
£1895
£18.95
In stock, ready to ship

Inventory on the way
PRODUCT DETAILS

Up to 10kg: 2 tablets per day
11-25kg: 3 tablets per day
26-40kg: 4 tablets per day
Over 40kg: 5 tablets per day
Do not exceed stated dose
Please consult a vet if your dog is under medical supervision
Letterbox friendly packaging
Manufactured in the UK, with human grade ingredients, to strict GMP standards
INGREDIENTS
Cranberry Powder 75mg, Marshmallow Root 50mg, D-mannose 50mg, Liquorice 50mg, Astragalus Root 40mg, Nettle Seed 10mg, Di Calcium Phosphate, Microcrystalline Cellulose, Magnesium Stearate, Chicken Flavouring. Store in a cool, dry place out of reach of children.
If your pet is on medication, under medical supervision, pregnant or nursing always consult your vet before administering health supplements. Side-effects from this supplement are rare but please discontinue use and contact your vet immediately in the event of an adverse reaction.
DESCRIPTION
Why Bladder Tablets for Dogs?
If your dog has started urinating in the house, it may be a sign of a urinary tract infection (UTI). Bladder Support for Dogs are a quick and effective solution to treating your dogs uti at home, helping to clear up any issues in the bladder and urinary tract while saving your floors from mess and damage.
Irresistible Chicken Flavor: Say goodbye to the struggle of convincing your dog to take bladder supplements. Our tablets come in a delicious chicken flavour that dogs love, making it a treat rather than a task.

Optimal Dosage for All Sizes: Whether you have a petite pup or a larger canine companion, our versatile dosage of 2-5 tablets per day ensures that every dog, regardless of size, receives the right amount of bladder relief.

Ample Supply: Each bottle contains 120 tablets, providing a long-lasting solution for your dog's urinary health needs. Trust Supplements Wise to be your go-to source for effective and reliable bladder support.
Powerful Ingredients:
Cranberry: Known for its natural properties that support urinary health in dogs, cranberry is a key ingredient in our formula.

Marshmallow Root: This soothing herb helps maintain a healthy urinary tract and provides relief from irritation.

D-mannose: Renowned for its ability to support a healthy bladder lining, D-mannose for dogs is a crucial component in our blend.

Liquorice: With anti-inflammatory properties, liquorice contributes to overall urinary tract health.

Astragalus Root: A powerful herb that supports the immune system, promoting your dog's overall health and well-being.

Nettle Seed: Known for its diuretic properties, nettle seed assists in maintaining proper fluid balance.
Check out some of the reviews for this powerful dog bladder supplement at our Amazon listing here.