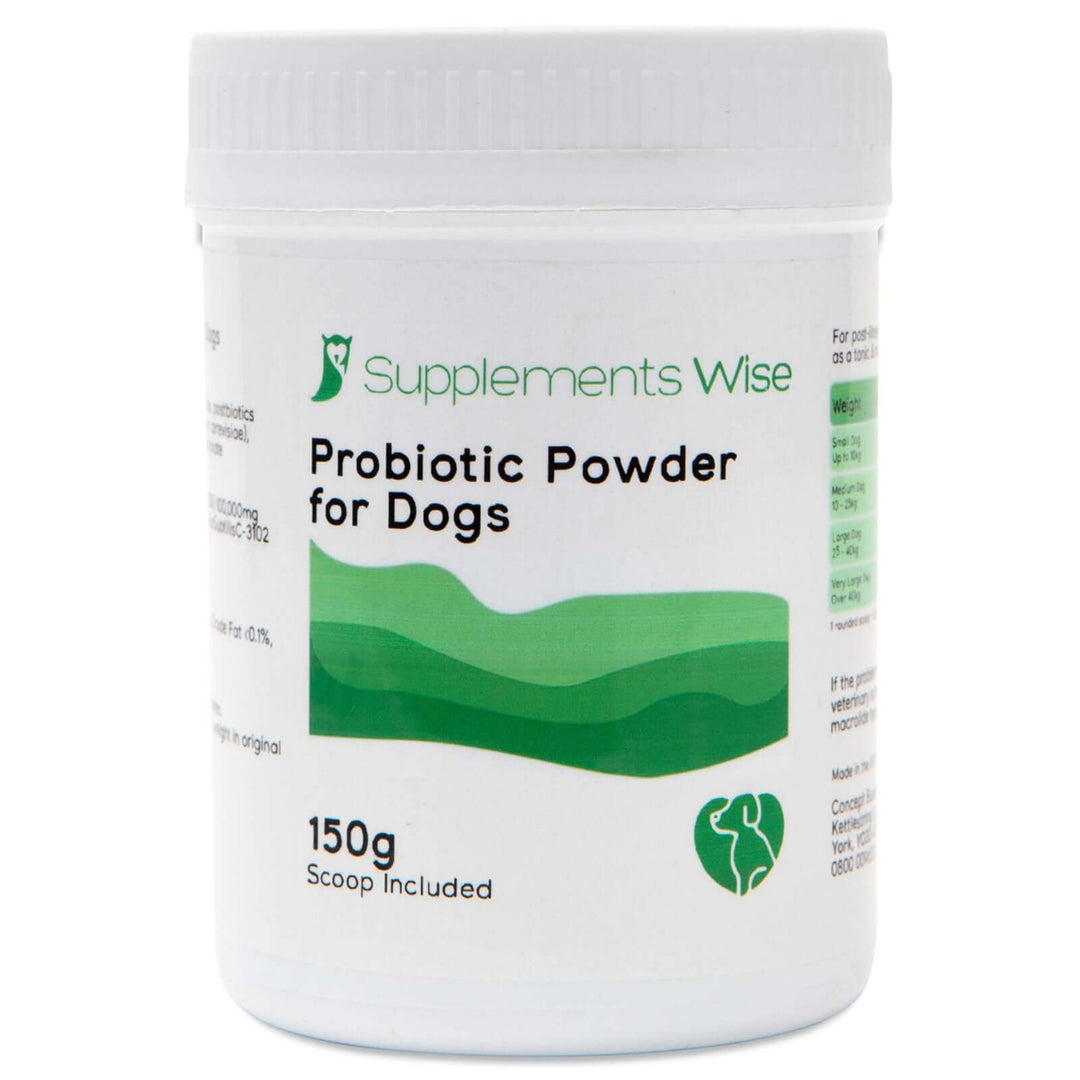 Probiotic Powder For Dogs 150g
Probiotic Powder For Dogs 150g
Regular price
£1995
£19.95
In stock, ready to ship

Inventory on the way
INGREDIENTS
Bacillus Subtilis C-3102 Probiotic - providing more than 1.12 Billion CFU per 7.5g serving Mannan oligosaccharides Prebiotic Fructo oligosaccharides Prebiotic Beta-1,3/1,6-glucans Prebiotic Yeast Fermentate Postbiotic Absorbant Montmorillonite Organoclay Detox Store in a cool, dry place out of reach of children.
PRODUCT DETAILS
Do not exceed stated serving. Scoop included
1 rounded scoop = 3.5g approx. Bacillus Subtilis C-3102 - 1.125 Billion CFU per 5g serving
Please consult a vet if your dog is under medical supervision
Manufactured in the UK, with human grade ingredients, to strict GMP standards
If your pet is on medication, under medical supervision, pregnant or nursing always consult your vet before administering health supplements. Side-effects from this supplement are rare but please discontinue use and contact your vet immediately in the event of an adverse reaction.
Supplement Wise Probiotic Powder for Dogs have been formulated to support your pals digestion, immunity and stools. They are made up of a triple action probiotic blend including probiotics, prebiotics and postbiotics meaning they can tackle your dogs tummy issues more effectively. The beneficial bacteria in your dog's gut play a critical role because of the goods they create. Through the process of fermentation, the beneficial bacteria use high fibre foods in the gut as fuel in order to produce foods called metabolites. Your dog uses the metabolites to support wellbeing, immune health, and vitality. Probiotic powder for dogs supports the gut to make metabolites that it needs by:
Providing prebiotics, which helps fuel the beneficial bacteria that are the factories in your gut working to make the metabolites
Adding more beneficial bacteria (factories) by taking Probiotics.
And now by adding Post Biotics
Post Biotics are the metabolites that have already been fermented outside of the body and then fed directly to the gut, supporting the work carried out by the beneficial bacteria. Your dog's gut is busy enough and you can now give it a helping hand.
How do you know if your dog needs a probiotic?
There can be many tell-tale signs that your loyal pal may need to use probiotics for dogs; both behavioural and physical. You may notice them whining, scratching, pacing or panting when you would normally not expect them to. You can also look out for excessive itching, scratching and shedding as well as dry skin or ear problems. Other signs are bad breath and a general bad smell to their coat and body as well as their stool. We know how important the health of your dog is to you which is why we have created one of the best dog probiotic blends on the market. Our premium dog probiotics are carefully made to a human food grade standard, proudly manufactured in the UK to strict Good Manufacturing Practice and ISO 9001 standard, meaning you can be confident in their safety and quality. You can administer our probiotic powder for dogs using the suppled scoop and sprinkle over their usual food.
Are dog probiotics and human probiotics the same?
While there are no strict reasons you could not give your dog the same probiotic you take yourself we would always advise against it. We and our best pooch pals have a different immune system and what works for us could be harmful to them. It is always safer to give them a dog specific probiotic such as ours, as well as one made in UK. Human probiotic blends have not been tested for efficacy on dogs and therefore it is unknown what the results could be. We have a whole range of popular and effective supplements and vitamins for dogs. For example, if your dog is also suffering from bladder problems, then you may like to try bladder support for dogs.